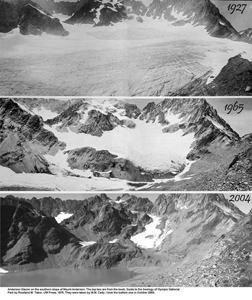 Glaciers that feed the Queets and Quinault Rivers are just fractions of the size they were a few decades ago. As they recede, they threaten salmon stocks important to the Quinault Indian Nation.
"These glaciers once provided large amounts of cold water, year-round, that maintained higher summer flows, " said Tyler Jurasin, QIN operations section manager. Lower flows mean less habitat for spring/summer chinook runs in the Queets and Quinault rivers on the Olympic Peninsula, which already face many other threats to their survival.
"In addition to lower summertime flows, we are dealing with a lot of sediment released by the retreat of the Humes and Anderson glaciers," said Jurasin.
"Massive amounts of cobble and gravel once stored in the glaciers are now being flushed onto the floodplain, leading to channel instability." Chinook are forced to spawn in vulnerable areas in the main channel because side channels are washed out more frequently during winter flows and there isn't sufficient flow for spawning during the summer and early fall in the few remaining side channels."
When winter floods strike, eggs in the main channel are more likely to be washed away.
Glacier retreat is greatest mid-slope, near snowline, where warmer temperatures mean more precipitation falls as rain instead of snow. Using data from weather balloons released near Forks, researchers discovered the average January through March temperatures at 4,700 feet have increased about 6 degrees since 1948. According to the University of Washington's Climate Impacts Group, April 1 snowpack levels in the region have declined about 35 percent over the last 50 years.
"If you look at 5- and 10- year snapshots of these stocks, you see that north coast chinook runs are holding their own at a low level," said Jurasin. "But if you look at their numbers beginning in the 1970s, you see the pattern of dramatic decline emerge. From averages of more than 1,500 adults returning for both rivers, now the adult returns average only a few hundred fish, with some years as low as a hundred. At this low level, the risk of extinction is high for these stocks."
The Queets community has not fished for Queets spring/summer chinook for more than a decade and there has been no directed fishery for Quinault river spring/summer chinook for many years, Jurasin said.
Using a hatchery reform grant, QIN is working on a plan to supplement spring/summer chinook in both the Quinault and Queets rivers. It will explore several different program options, such as captive broodstock where adults are removed from the river and their offspring reared in a hatchery and other conventional supplementation programs.
The feasibility of broodstock, egg collection and rearing procedures will be tested as part of the plan. A risk assessment of each program alternative will also be conducted.
"The plan will provide the triggers for proceeding with these supplementation strategies as well as benchmarks for assessing program performance," said Jurasin. The plan is expected to take about a year to complete.
-End-