UPPER SKAGIT TRIBE NEWS RELEASE
The Upper Skagit Tribe conducted a four-hour Skagit River sockeye fishery on July 6. The small fishery was delayed by one week from the pre-season plan to increase available early numbers of sockeye to meet hatchery broodstock needs. The tribe caught 700 harvestable fish from the estimated 13,000 total sockeye fish returning to Baker Lake this year. All of the salmon harvested will be distributed to tribal elders.
People often inquire why the tribe continues to fish the Skagit. Part of the answer goes back 165 years to a cold January day in 1855 when Upper Skagit leaders signed the Treaty of Point Elliott with the United States, forever reserving the right to fish in their "usual and accustomed" fishing areas in the Skagit River in exchange for ceding most of their ancestral homelands to the U.S.
This small annual fishery is tribal members' annual opportunity to honor both the huge sacrifice that their ancestors made, and honor the deal that was struck as treaties are the supreme law of the land per Article 6 of the U.S. Constitution. The Upper Skagit fishing village named Sbalikwh was located near Baker Lake where the Upper Skagit people passed on the fishing culture from generation to generation on the only run of sockeye in Northern Puget Sound for thousands of years pre-contact.
Today, using the best available science and employing a sustainability first approach, the tribal and state co-managers are working to ensure that both hatchery and natural production escapement goals are met. Because it is being conducted in a terminal area, the tribal fishery will be highly selective for sockeye while reducing impacts to spring chinook. Like all tribal fisheries it will be closely monitored in real time to ensure management goals are met.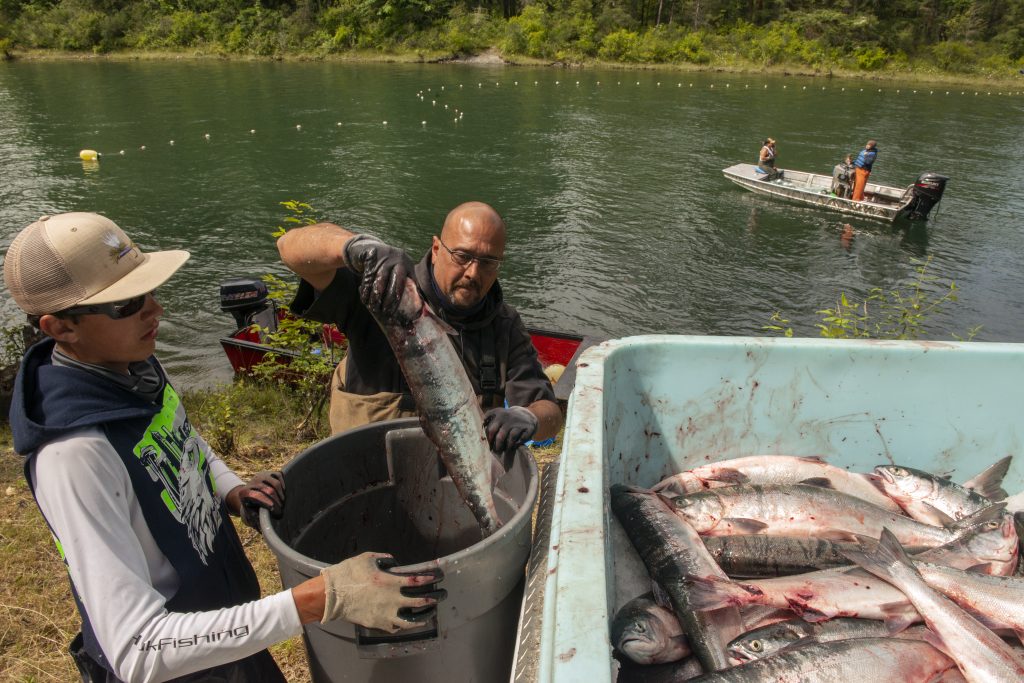 Through the collective efforts of the Skagit River co-managers, Baker River sockeye have made an amazing recovery from a historical low return of around 90 adult fish in 1985 to a high of more than 51,000 in 2015. Much of that success came through the efforts of the tribes and WDFW in the Puget Sound Energy hydroelectric relicensing process which led to increased fisheries enhancement and fish passage improvements.
Still, most salmon populations in the Skagit have continued to dwindle, says Scott Schuyler, Upper Skagit policy representative and a tribal fisherman. "The decline of salmon also correlates with deteriorating environmental conditions like the re-occurring salmon-killing warm water 'blob' off our coast in the previously cool North Pacific. Salmon need cool clean water throughout their life cycle but as our glaciers continue to recede due to global warming, our ocean and rivers also are warming. It's time to oppose current environmental protection deregulation efforts which are contributing to declining salmon runs," he said.
"Time is our biggest enemy right now as we need to immediately address loss of salmon habitat and reverse the trend of degrading environmental conditions before it's too late," Schuyler said. "The Skagit is the largest and most biologically important river that flows into Puget Sound. While we have made good progress in recovering sockeye, we need more collective support to effect environmental change on a global level. It's that serious."