Hatcheries, like the salmon they rear, need a lot of cool, clean water. 
The Tulalip Tribes' Bernie Kai-Kai Gobin Hatchery will soon have a water reuse system that will quadruple the amount of water available for hatching and rearing chinook, coho and chum salmon. 
The hatchery draws its water from the east and west forks of Tulalip Creek and five wells. The water reuse system will recirculate water after filtering it through two large drum filters that remove suspended solids, treating it with UV and oxygenating it before returning it to the ponds and raceways.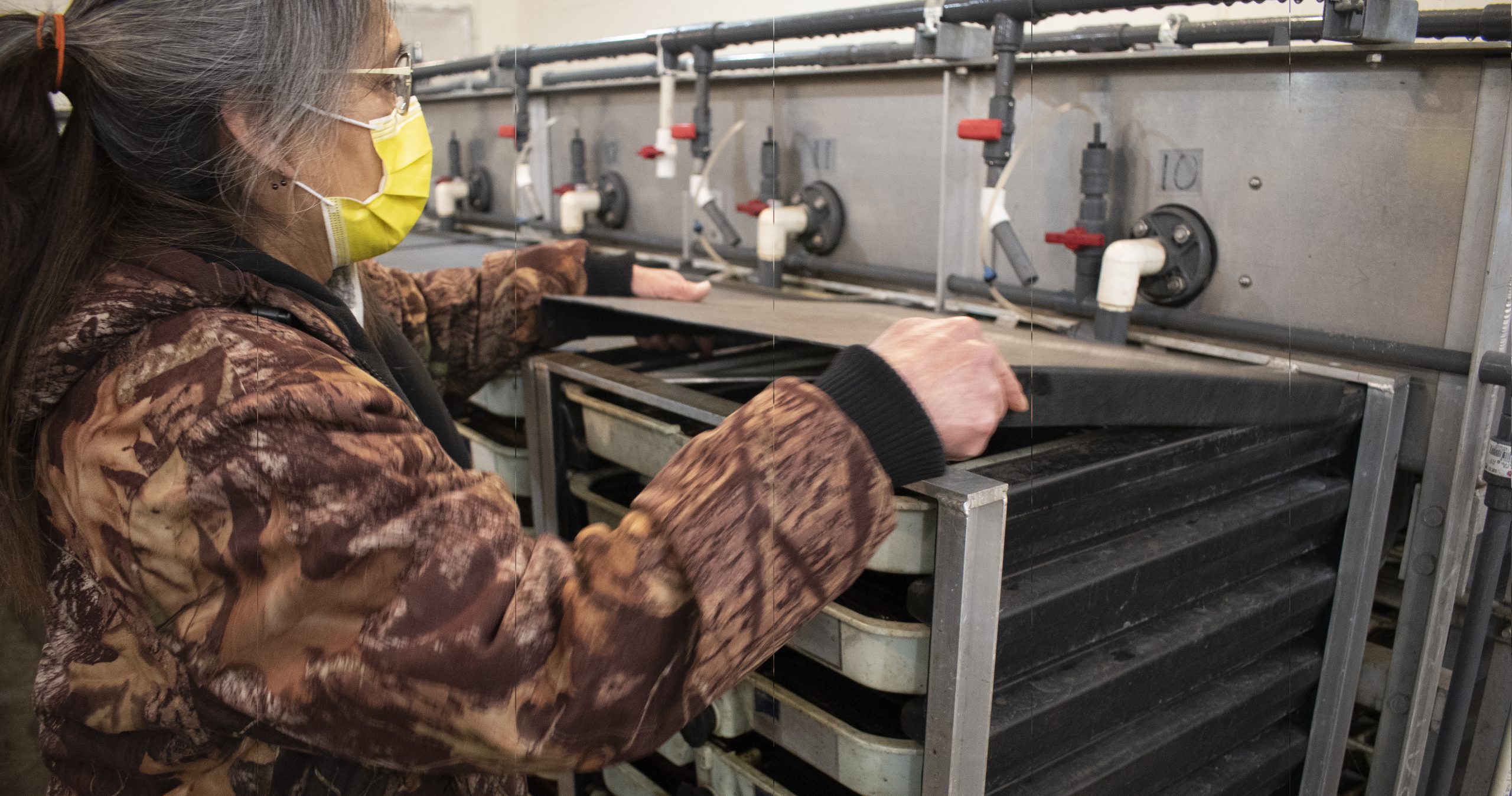 Mike Crewson, salmon enhancement scientist for the Tulalip Tribes, said the reuse system will increase the amount of water available from approximately 3,000 to 12,000 gallons per minute. He said the reuse system is similar to the one in place at the Muckleshoot Tribe's Keta Creek Hatchery.
"More water means the hatchery will be able to increase the number of chinook it hatches and rears by more than 80 percent – from 2.4 to 4.4 million fish," Crewson said.
The hatchery also is expanding 12 of its 20 raceways. The channels, which are used for rearing fish, will be deeper and wider and supplied by the reuse system as well as four new wells recently connected to the hatchery, plus an existing hatchery well. 
All told, the project cost is approximately $4.2 million and will be completed in April, Crewson said.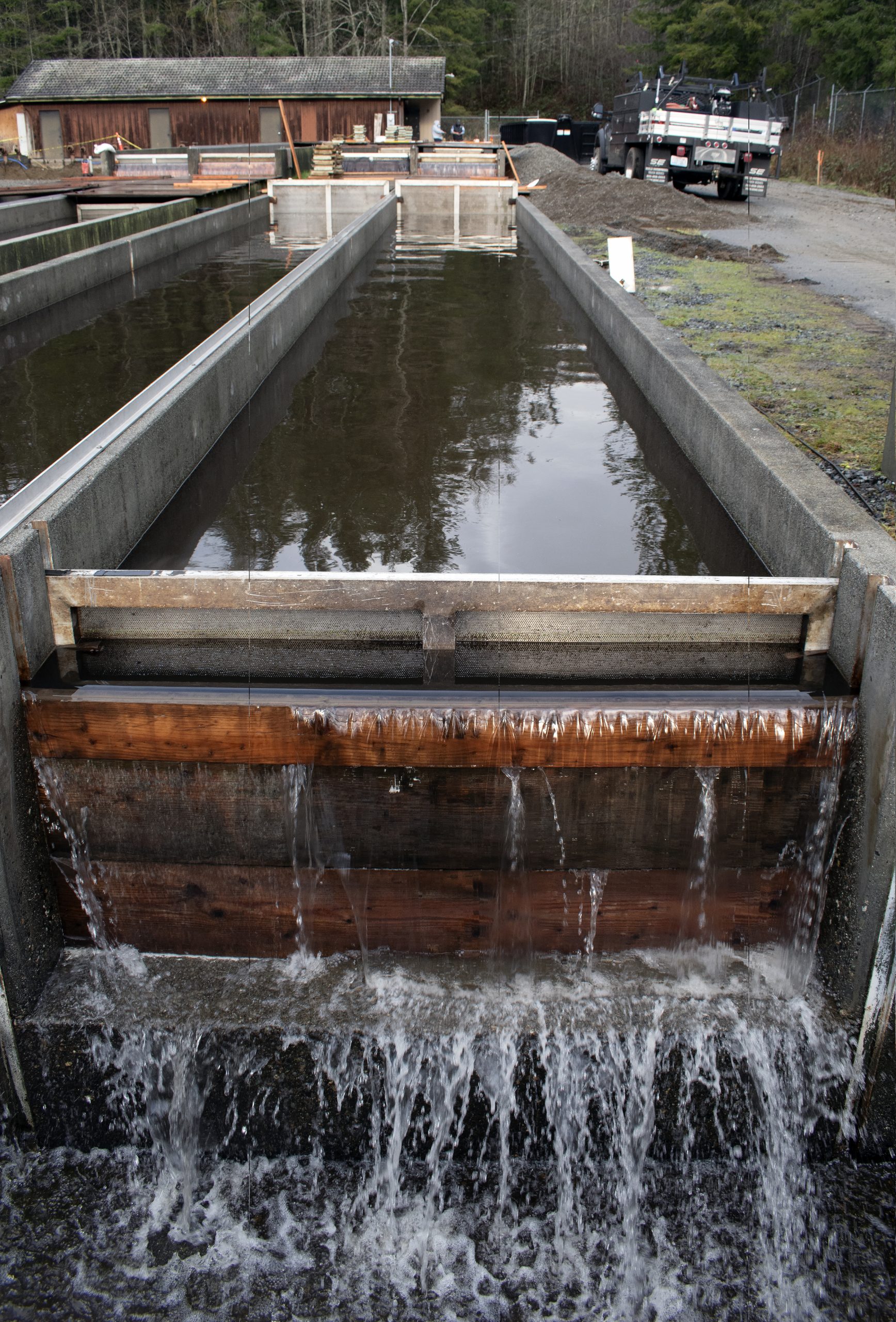 Of course, more fish means the hatchery will be more of an attraction to cormorants, mergansers and otters that have been known to alight on the hatchery for a captive meal. All raceways will get screened lids with lightweight aluminum frames and pneumatic closers, similar to a screen door, using a Washington Department of Fish and Wildlife design called "flyswatters." The lids will protect rearing fish from predation while enabling feeding, Crewson said. 
The hatchery is named for Bernie Kai-Kai Gobin (1930-2009), who started the Tulalip Tribes' first hatchery in the 1970s to make sure salmon is available for current and future generations.
"One of the biggest reasons for the hatchery is so if someone says they want to fish, there's fish that he can catch out there — like his dad did, like his grandfather did, and like his grandfather's grandfather did," said Jesse Rude, assistant hatchery manager and one of Gobin's grandsons. "That's who we are and that's what we do."

Gobin's first hatchery system comprised three large swimming pools and a water pumping system. The current hatchery was built in 1983 for $7.2 million and renamed for Gobin in 2000. 
Tribal hatcheries provide harvest opportunities for both tribal and nontribal fishermen. They also augment natural runs in river systems where salmon populations have declined because of habitat loss. 
Above: Construction workers with Chinook Enterprises work on the expansion of a raceway at the Bernie Kai-Kai Gobin Hatchery on the Tulalip Reservation in January. Story and photos: Richard Walker