While forecasts for returning coho salmon are down again this year, the Muckleshoot and Suquamish tribes continue to make sure there are harvestable fish in Puget Sound for everyone, with plans to double the amount of hatchery releases next year.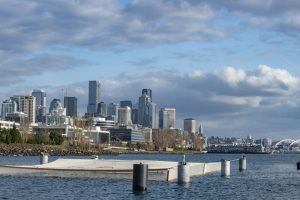 Since 1993, the tribes have been co-managing a net pen in Elliott Bay, filling it with up to 500,000 juvenile coho salmon every February. The tribes will increase that number next year with the addition of a second net pen, with the capacity to hold 1 million fish.
Suquamish's fisheries staff acquired funding and permits last summer to upgrade the existing net pen's anchors, structure and nets, the third overhaul of the structure since the program started. Permits are pending for the addition of the second net pen.
The fish are spawned at Muckleshoot's Keta Creek Hatchery, and reared there or at Palmer Ponds, a state rearing facility. Several state fish transfer trucks then haul the fish an hour's drive to Port of Seattle's Pier 91 in tanks of water with salt and supplemental oxygen. A Suquamish barge receives the fish, then motors over to the net pens to unload them. The fish are released from the pen in late May or early June.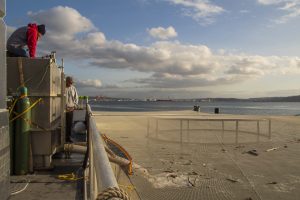 "These fish are for everyone to harvest," said Mike Huff, Suquamish Tribe's hatchery manager.
Top: Staff from the Muckleshoot and Suquamish fisheries departments and Washington Department of Fish and Wildlife round up coho at Palmer Ponds to be trucked to Elliott Bay. Photo: Debbie Preston.