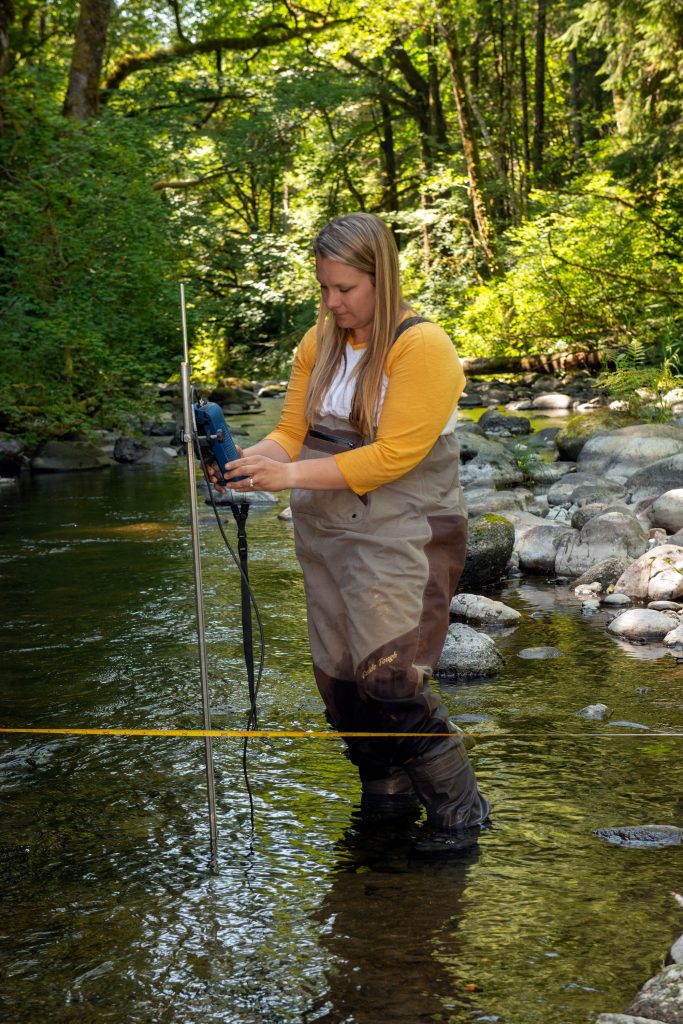 The roar of winter flows in the North Olympic Peninsula's Bear Creek were replaced with summer's gurgling brook in August 2020 as Nicole Rasmussen stepped into the stream to measure its flow. Rasmussen, water quality biologist for the Quileute Tribe, has been measuring eight streams like it for 10 years and two others for eight years.
Rasmussen took two readings, with seven to 10 days between them, hoping for no rain, to measure the rate of the stream's discharge.
"It can be a little tricky out here in the rainforest to get that many days without rain, but during late July and September, I can usually get a couple of readings in," Rasmussen said.
For the tribe, the data is already assisting with managing fisheries, because summer low flows often impede fish passage. "When the rivers get to a level that becomes problematic for fish passage, we engage in conversations with our state co-managers to decide if it's necessary to close the rivers to fishing until sufficient flows return for fish to migrate," Rasmussen said.
The data collection is part of a voluntary effort of all 20 treaty Indian tribes in western Washington. The project began in 2007 in partnership with the U.S. Geological Survey (USGS) to help create a model for estimating summer base flow in small streams without a water flow gauge. Tribes already pay for many of the USGS gauges on rivers used to inform sportsmen, weather professionals and the tribes. Some tribes are collecting low flow data on an annual basis; other tribes are collecting low flow data occasionally.
The purpose of the tribal low flow network is to provide a managed data system to store any low flow data that the tribes volunteer over the long term. The tribes can employ this data system to specific research objectives in the future.
For the Quileute Tribe, it also helps measure the flow of water to the Lonesome Creek Hatchery that relies on the creek for its water for fish rearing. If water flows are dipping too low early in summer, some fish may be moved earlier to another rearing facility.