A Nisqually Tribe study on the effects of gillnetting and releasing chinook salmon has produced promising results, and eventually could open the door for tribal fishers to catch more hatchery fish while still protecting the natural-origin resource for future generations.
"We've had shockingly good success using drifted gillnets," said Nisqually harvest program manager Craig Smith. "If employed, it will increase our ability to harvest hatchery fish while releasing natural-origin chinook."
The study aimed to determine the mortality rate of chinook caught and released using gillnets. If natural-origin salmon could survive being released from a gillnet, Nisqually fishers could potentially harvest more hatchery fish without impacting goals to preserve stocks.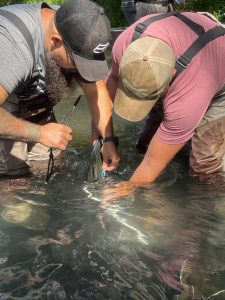 "It's a great opportunity to increase harvest of marked hatchery fish while staying under the set impacts on unmarked natural-origin chinook," Smith said.
Nisqually natural resources staff and fishers conducted a test fishery by drifting gillnets in the Nisqually River for brief periods of less than five minutes each. This technique is the same as the tribe's nonselective drift fishery, except for the release of the natural-origin chinook. Weather, water chemistry and other data were recorded, as well as the health of each chinook caught. The chinook were held in mesh bags in the river for 24 hours until their health could be graded again on a five-point scale. All the salmon alive at that point were then released.
The mortality rate for salmon caught in the nets was 10%, a promisingly low figure, Smith said.
"The results were much better than any other gillnet mortality study that's taken place," he said.
Studies conducted elsewhere had different conditions, he said, such as longer soak times for the gillnets and warmer water at the time of the study.
The tribe's study was an outgrowth of an earlier gear study aimed at finding a balance between catch efficiency and selective gear preference of tribal fishers.
While the new study results were exciting, more work lies ahead. The study's mortality rate figure will be reviewed by the Washington Department of Fish and Wildlife and the National Oceanic and Atmospheric Administration's fisheries department.
Above: Nisqually Natural Resources harvest management biologist Walker Duval at a holding site for the tribe's recent test fishery. Story: Trevor Pyle. Photos provided by the Nisqually Tribe