Purple camas flowers are growing in surprising places on the Swinomish Reservation.
Camas bulbs were once a vital traditional food for Coast Salish people, but have fallen out of favor since treaty times for a variety of reasons. Among them, camas fields require maintenance that tribal members were unable to provide after being relocated from their ancestral lands.
On the Swinomish Reservation, however, camas is rebounding on Flagstaff Point and Martha's Beach. The tribe is nurturing those fields, teaching the community how to harvest and prepare it, and finding ways to revitalize the first food.
Flagstaff Point is on the Kukutali Preserve, which was jointly purchased by the tribe and state of Washington in 2010 after having been in private ownership since the 1920s. Because few tribal members had been to Flagstaff Point during that time, they were unaware that camas grew there. The tribe has installed fencing to protect the fragile habitat from foot traffic.
On Martha's Beach, camas had been crowded out by invasive Scotch broom and blackberries. After an extensive effort to remove the non-native species, the tribe replanted native species such as Garry oak and juniper. But the camas came back by itself from an existing suppressed population.
To ensure that the camas doesn't disappear again, the tribe may reintroduce fire as a management tool.
"Our Generations Camas Project is researching and studying where we have camas and determining whether we can grow it on the reservation," said Todd Mitchell, director of the Department of Environmental Protection (DEP). "We're looking at different varieties, to see if we can get a larger bulb, and grow enough to bring to at least one or two cultural events a year."
Small camas bulbs take three to five years to bloom, and that's not even big enough to harvest yet, said Swinomish environmental health coordinator Myk Heidt, who plans an annual camas dig on the reservation.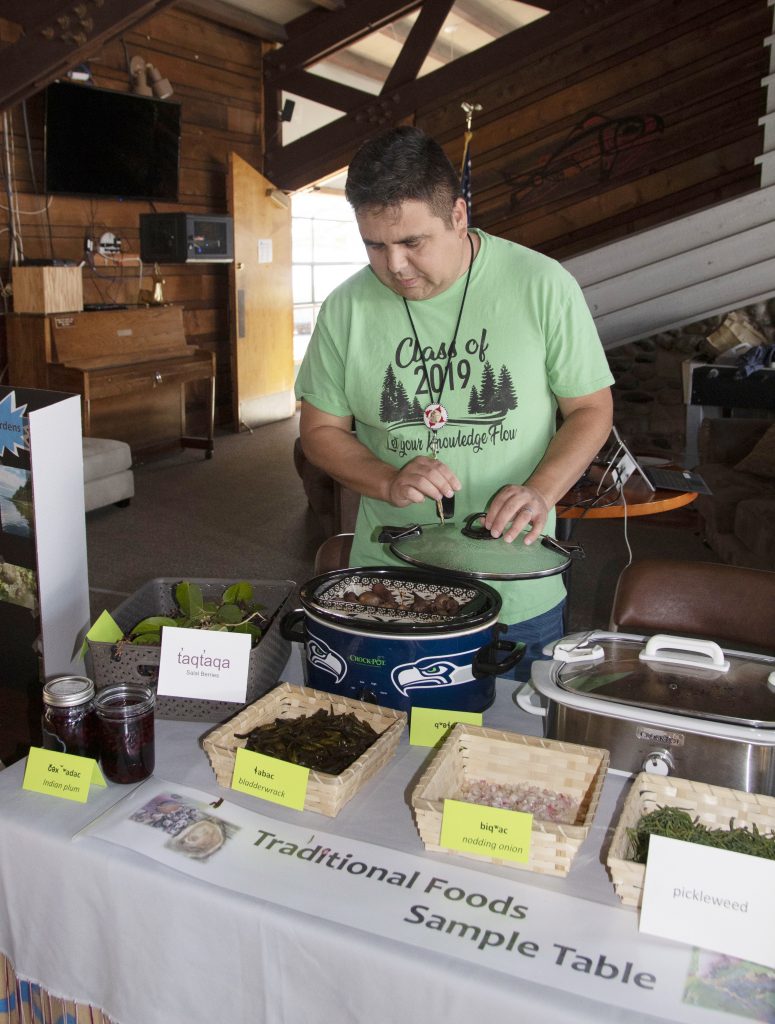 The tribe's Community Environmental Health Program reintroduced the first food to the Tribal Senate a few years ago, and has been serving it at a traditional foods table at the annual elders' luncheon for the past three years.
"Camas today is little known in our community and yet it was as valuable as salmon in the past as a trades good, so it was highly sought after," Heidt said. "They would dig the bulbs, boil them, dry them and use them in the winter time to add a much needed starch."
Camas bulbs take two days to cook on very low heat, said Heidt. The texture and flavor has been compared to a baked pear or sweet potato.
"As part of the camas research, DEP organized a camas dig in south Puget Sound for tribal members to learn from our Chehalis relations how to gather the bulbs that are plentiful and still eaten around the Chehalis prairie," Mitchell said.
Dean Dan Jr., a DEP environmental education intern, brought his son, who compared it to clam-digging, but easier.
"Camas was a staple food," Dan said. "Being able to harvest, learn and share about this first food is an honor; learning how to give back to the community and practice these types of teachings that allow us to identify with our ancestors."
Camas blooms on Flagstaff Point on the Kukutali Preserve. Photo: Todd Mitchell