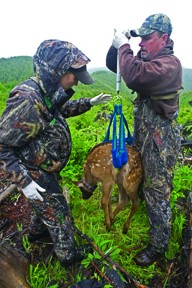 Bull elk on the north Olympic Peninsula are surviving today at roughly the same rate as they did in the late 1980s and early 1990s, according to early results of a two-year study by the Makah Tribe.
The tribe is halfway through the second year of a bull and calf elk survival study to update survival rate information gathered in the 1980s. "We want to be sure enough mature branch antlered bulls and spikes are making it through each year to maintain a healthy population," said McCoy. The study is being conducted in an estimated 124,000-acre area that includes Makah reservation and commercial timberlands outside the reservation.
Last year, the tribe implanted 20 bulls with radio transmitters; 21 more were implanted this spring. "Approximately 25 percent of the bulls implanted last year survived hunting and natural predators," said McCoy. If that holds true for the second year, McCoy is confident that the harvest rates have been appropriate to assure healthy herds as well as hunting opportunity.
Elk calf survival is also a good indicator of herd health. Half of the 40 radio-collared calves from last year survived, a good rate for wildlife. "Cougars are really the only calf predator we documented," said McCoy. "Deer fawns have multiple predators, such as coyotes, bears, bobcats and cougar."
A second group of 34 elk calves were collared this spring and the results of their survival will be factored into the study. Calf survival rates combined with cow survival rates indicate whether an elk population is growing.
A three-year Administration for Native Americans Environmental Regulatory Enhancement grant through the Department of Health and Human Services and the Makah Tribe paid for the study. Volunteers from the KBH Archers of Bremerton assisted with the captures along with Makah tribal members and wildlife biologists from other tribes and personnel from Washington Department of Fish and Wildlife.
-End-
For more information, contact: Rob McCoy, Wildlife Division Manager, Makah Tribe, (360) 645-3058, Debbie Preston, Coastal Information Officer, Northwest Indian Fisheries Commission (360) 374-5501, [email protected]