An audiobook plays just loud enough for Squaxin Island tribal member Natasha Bush to hear as she picks Pacific oysters during a commercial oyster harvest.
She and three other tribal members fill metal cages with the bivalves on Hammersley Inlet near Shelton.
"I like thinking about my ancestors picking oysters when I'm out here," Bush said.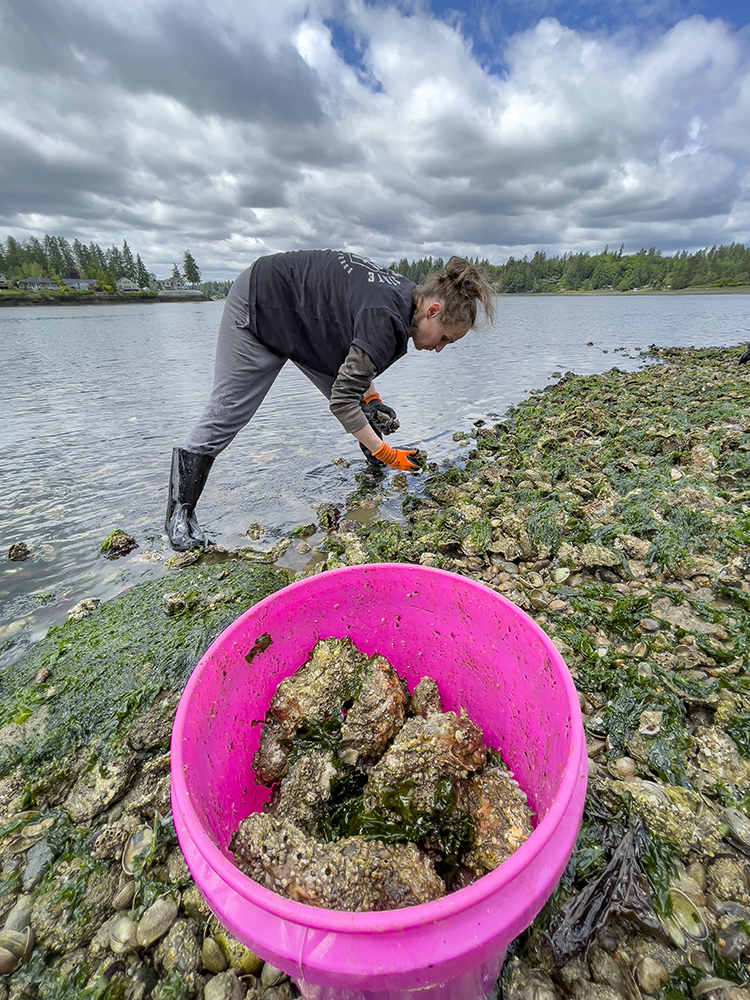 While clam harvesters can kneel, these oyster pickers had to bend over repeatedly for more than three hours. The sharp, barnacle-covered shells are too sharp to kneel on and are lower in the tidal zone, making speed a priority over comfort.
A barge outfitted with a crane from the tribe's seafood business, Salish Seafoods, retrieves the estimated 1,200-pound cages, each filled with about 200 dozen Pacific oysters. A good picker can fill a cage in less than an hour, sorting and removing empty shells from the live oysters as they go.
The tribe has the federally upheld treaty right to harvest 50 percent of naturally occurring shellfish on privately owned tidelands. If the owner desires, the tribe will harvest the owner's half and split the profits. In recent years, the tribe has successfully developed a cooperative program to work with private tideland owners on individualized management of their tidelands and shellfish populations. This benefits both parties and strengthens the relationship the tribe continues to develop with tideland owners.
The tribe has relied on shellfish culturally and economically for millennia. Shellfish are featured in tribal celebrations and used for subsistence and ceremonies. Salish Seafoods serves customers locally and around the world. Demand for shellfish has surged as restaurants and their customers emerge from COVID-19 quarantines.
For more information about the tribe's seafood enterprise, visit salishseafoods.com.