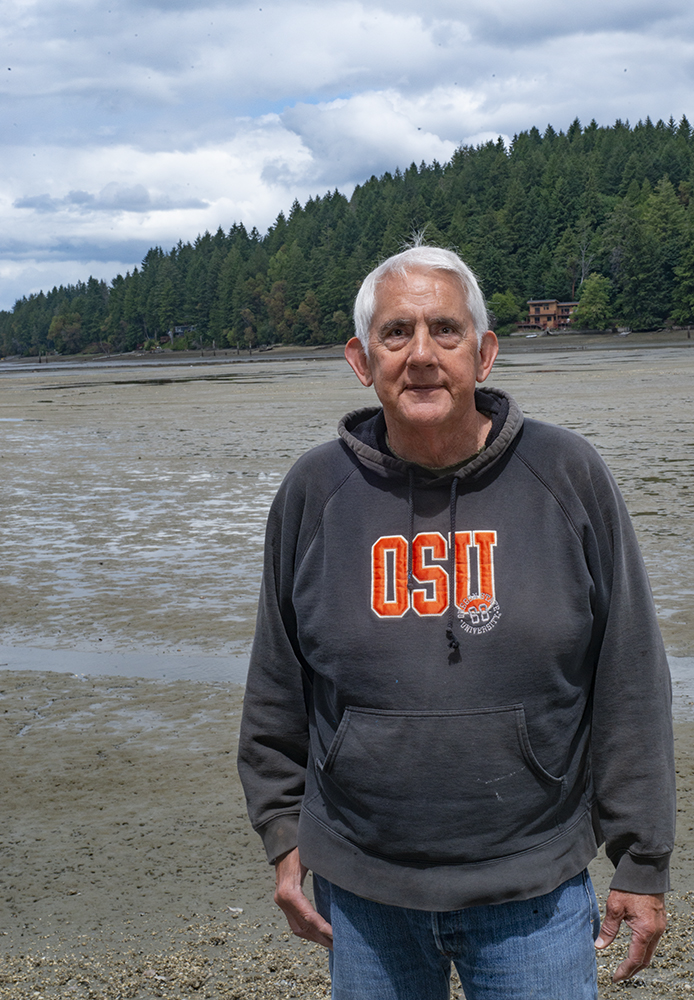 Squaxin Island tribal member Mike Peters recalls processing Olympia oysters in a floating hut in Eld Inlet decades ago for the family shellfish business.
"It was a lot of work, but that was my job, helping get the oysters ready for market," Peters said. His great-grandmother, Molly Peters, taught many others how to raise shellfish.
The small native oyster is prized for its distinctive taste compared to the larger Pacific oyster found in most commercial shellfish beds. The Olympia oyster was shared at many tribal gatherings for hundreds of years before its near extinction.
Peters still lives on the property that has been in the family since before Washington statehood.
"My grandparents took those oysters to market every week, and places like The (Olympia) Oyster House were big customers," he said.
But along came extensive logging, rapid suburban growth and Highway 101 construction that brought heavy siltation to Eld Inlet. Olympia oysters were smothered in silt and nearly eliminated from South Sound.
"There were fewer and fewer oysters to provide the spat to continue the next generations," Peters said.
The tribe has spent several decades working to restore Olympia oysters, said Eric Sparkman, Squaxin Island shellfish biologist.
"We know that there were Olympia oysters in all the bays around Squaxin Island in the past," he said.
In Palela Bay, chemicals in the effluent from the pulp mill in Shelton also contributed to the demise of Olympias around Squaxin Island.
To jump-start natural production of Olympia oysters in 2010, the tribe and Puget Sound Restoration Fund (PSRF) spread Pacific oyster shells over 2.2 acres in Palela Bay and a site on the east side of Squaxin Island. The shells from the more common oyster provided a substrate for new Olympia oysters to grow above the mud. Funding came from a U.S. Fish and Wildlife grant.
"Those shells are still there and providing a place for Olympia oysters to set and survive," Sparkman said. The tribe also worked to attract Olympia oysters in areas where natural production was known to occur.
Unfortunately a 2011 effort around Palela Bay failed to attract the spat that becomes young oysters, and until 2018, the Olympias largely were left to repopulate naturally.
This year, The Nature Conservancy (TNC) and Pew Charitable Trusts' Supporting Oyster Aquaculture and Restoration (SOAR) program provided the tribe with adult Olympia oysters. They were spawned at the National Oceanic and Atmospheric Administration's Manchester facility and nursed at Chelsea Farms on Eld Inlet in Olympia.
"The SOAR program's focus is helping oyster farmers harmed by little to no sales during COVID, while at the same time benefiting oyster reefs," said Tiffany Waters, TNC global aquaculture manager.
In April, Squaxin Island, TNC and PSRF staff surveyed Palela Bay and an additional site before spreading about 71,000 adult oysters.
"The new oysters will join the previously planted seed and natural recruits that are resting on the foundation of shell laid down a decade ago," Sparkman said. "This will put us one step closer to our goal of a robust Olympia oyster bed on the island that is self-sustaining."