The Skokomish Tribe wants to better understand the flooding of the Skokomish River – the same river responsible for viral videos showing salmon crossing the road when the river floods.
The tribe has partnered with the U.S. Geological Survey (USGS) to install three new stream gages that will measure the amount of water flowing from the Skokomish watershed, under the bridges on Highway 101 and onto the tribe's reservation.
"Gages are critical to flood management in the Skokomish River basin," said Seth Book, the tribe's Environmental Protection Agency grant coordinator. "These new gages will provide information about the volume of water flowing downstream at different points in the lower valley, as well as help determine flood timing."
To do this, routine flow measurements are needed to create a flow rating curve that correlates the height of the river with its volume of water, Book said.
"USGS are the experts in this field and have the equipment and software to do this," he said.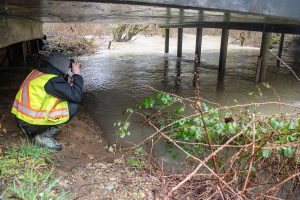 Data from these new gages will give the tribe and others more accurate information about the behavior of the river, such as where the floodwaters are going and how much water is coming out of the watershed.
USGS already is monitoring flows at six stations throughout the Skokomish watershed. This information is available online and is used for several purposes, including Tacoma Power's hydroelectric dam operations, and flood and emergency management.
"The volume of these floodwaters has been unknown and these data will help the tribe, residents, local, state and federal agencies make better decisions about river management," Book said.
USGS hydrological technicians Andy Cripps and Fred Reed collect flood flow measurements off the Weaver Creek bridge during a recent heavy rains in the Skokomish watershed. Story and photos: Tiffany Royal