The Skokomish Tribe and partners are celebrating years of hard work to improve water quality in Hood Canal.
The water quality status of 66 acres of shoreline in Hoodsport was upgraded from Prohibited to Approved by the Washington Department of Health's Shellfish Program (DOH) on Jan. 31. This means the water has been proven clean enough to allow for commercial shellfish harvest. The tribe has scheduled two commercial oyster harvests for early April 2021.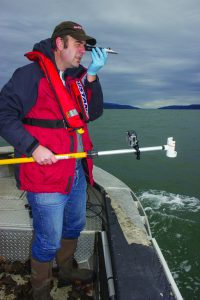 "The work between the tribe and the partners to get this done has resulted in a win-win for everyone involved," said Seth Book, the tribe's Environmental Protection Agency (EPA) grants coordinator. "There will be clean water for residents, tourists, shellfish and marine life in Hood Canal."
To get to this point, it's taken a multi-agency and multi-year effort between the tribe's water quality program, Mason County Public Health, DOH and Hood Canal Coordinating Council, with funding from the EPA.
The work involved collecting and analyzing water samples since 2014, and conducting shoreline and sanitary surveys to identify known and potential sources of fecal pollution. Once these sources were identified, Mason County Public Health worked with property owners to fix failing or inadequate septic systems.
Hood Canal has been plagued for years by water pollution from failing septic systems and low dissolved oxygen issues. The tribe will continue to monitor water quality and work with partners to control and mitigate pollution in the future, Book said.