Where the Stillaguamish River winds its way through a patchwork of agricultural lands toward the sea, the Stillaguamish Tribe of Indians is forging ahead with a vision to decolonize the landscape, in ecology and in name.
Before the area was diked, drained and planted with crops, and the river was squeezed into artificially narrow channels, the Stillaguamish River delta teemed with salmon, beaver and other wildlife—and those resources supported several Stillaguamish villages, including the home of a tribal leader named zis a ba.
"There was a range of habitats here very different from what it looks like today," said Jason Griffith, environmental program manager for the Stillaguamish Tribe's Natural Resources Department. "These floodplains look nothing like they did at treaty times. There were lots of logjams and the delta was this complex mosaic of channels that would kind of breathe with the tides."
The lack of variable, tidally influenced habitat in the area today is one of six limiting factors identified in a 2005 chinook salmon recovery plan for the Stillaguamish watershed.
"Right now, there are no chinook in that field; it's all corn," Griffith said while looking out over a sea of corn stocks stretching from the bank of the lower Stillaguamish River to Port Susan Bay. "But after this project, there will be fish."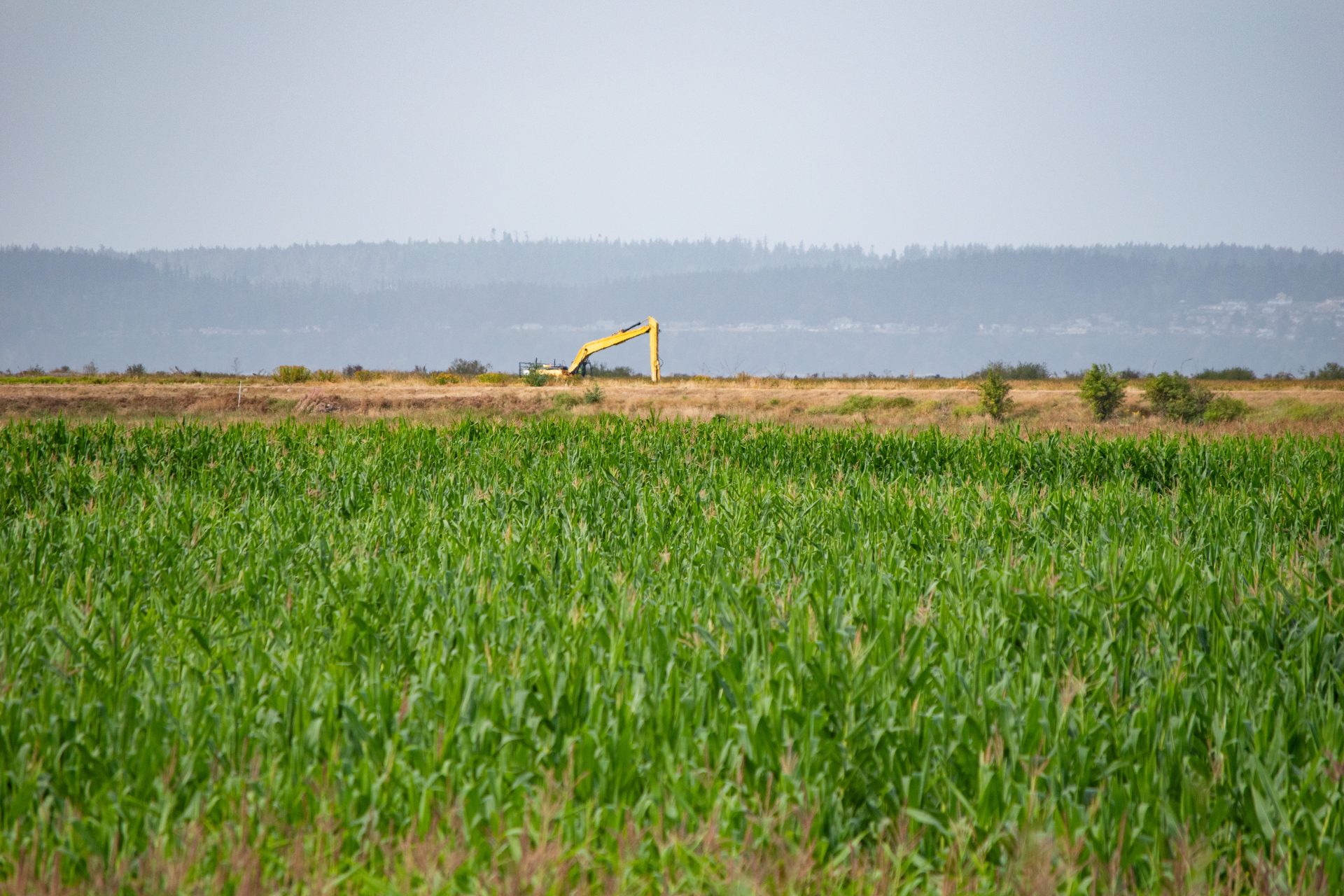 The project is a multi-part estuary restoration effort named after zis a ba. After completing the first 88-acre zis a ba restoration in 2017, the tribe is designing a 230-acre estuary restoration that could be shovel-ready in 2024, and is in the early stages of preparing for a third 537-acre restoration. Each phase of the effort involves removing dikes to expand the reach of Port Susan Bay at high tide.
"If all the phases of zis a ba can be completed, it will significantly improve estuarine access for juvenile chinook salmon, which will increase survival," said Charlotte Scofield, fisheries biologist for the tribe.
The zis a ba projects have the potential to stitch together a total of about 1,000 acres of restored estuary, including neighboring sites managed by The Nature Conservancy and the Washington Department of Fish and Wildlife. The Stillaguamish Watershed Chinook Salmon Recovery Plan goal is to restore 2,020 acres.
That restored estuary will help chinook salmon and other species in the food chain recover from the impacts of long-term habitat loss, water quality degradation and climate change.
"For us it's a no-brainer: the tidal wetlands will provide space for salmon and climate resiliency," said Kadi Bizyayeva, a Stillaguamish Tribal Council member and fisheries director of the tribe's natural resources department.
Within the first year after the tribe's initial zis a ba project, monitoring showed that native marsh plants and juvenile salmon—not only from the Stillaguamish but also from the nearby Skagit and Snohomish watersheds—were found repopulating the site.
"Chinook were using it immediately," Bizyayeva said.
That's progress, but the fish need more habitat space for the population to grow to numbers that can support tribal and nontribal fishing. For years, dismal Stillaguamish salmon stocks have been off limits for fishing and have impeded fishing for other species in waters throughout the West Coast, including in Canada and Alaska.
"What we'd like to see is climbing numbers of chinook," Bizyayeva said. "We want to see healthy tribal fisheries, healthy recreational fisheries, healthy commercial fisheries. Ultimately, we want to see a healthy environment."
Toward that end, the tribe is securing ownership of the land, restoring healthy ecosystem functions, and replacing the names of farm families and packing plants with a tribal name connected to many of Stillaguamish's enrolled members today—a reversal that Bizyayeva sees as a decolonization of the landscape in honor of her ancestors and in support of the next seven generations.
Above: Kadi Bizyayeva and Jason Griffith of the Stillaguamish Tribe walk the bank between the Stillaguamish River and a dike that will be removed during the zis a ba II restoration project while visiting the site in August. Photos and story: Kimberly Cauvel