The Port Gamble S'Klallam Tribe has a new hatchery at Point Julia, more than 40 years after the original facility was constructed.
It's a significant upgrade from the one-room office with no heat that was shared by staff members for decades, said Abby Welch, the tribe's project manager.
To lessen the impact on Point Julia and the tribe's traditional village sites, the tribe constructed the new hatchery on top of the original footprint. The new facility consists of two, two-story buildings connected by an overhead walkway. It includes a new garage and egg incubation room plus a new drum filter for water coming into the hatchery from Little Boston Creek. There are now individual offices for hatchery staff and a conference room with a waterfront view. The hatchery's spawning shed and concrete raceways stayed the same.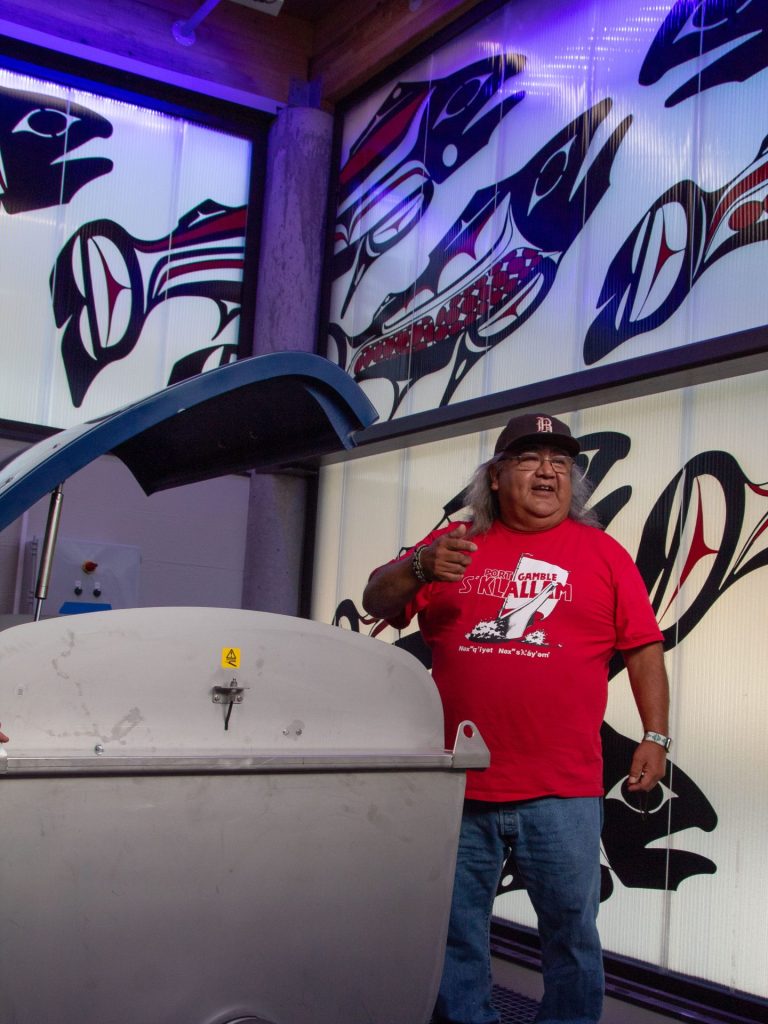 "The larger office space will be much more comfortable than the shared space from the previous building," said Mike Jones, the tribe's hatchery manager. "We will also have an alarm system which will notify us in case we lose water flow."
While the tribe will be working with the same egg take (an annual goal of 1.2 million chum salmon eggs), the new water filtration system will provide cleaner water for the hatchery, which could improve survival rates for salmon once they hatch, he said.
The tribe also considered climate change when designing the new buildings, with concrete support pilings extending 20 feet deep anticipating expected sea level rise in the bay. Tribal elders and the cultural department selected the traditional and medicinal plants used in the landscaping.
One of the new buildings features a Coast Salish mural of black and red salmon created by tribal member Jimmy Price. The mural greets tribal members as they drive down the hill to Point Julia to visit the hatchery, launch their boat, or use the new community picnic shelter that was constructed concurrently with the hatchery.
Funding for the new hatchery came from the tribe and a grant from the National Oceanic and Atmospheric Administration Fisheries Disaster Assistance program in 2018.
Port Gamble S'Klallam Tribe's new hatchery offices and garage were built on the footprint of the original building, constructed with sea level rise in mind. Photos and story: Tiffany Royal