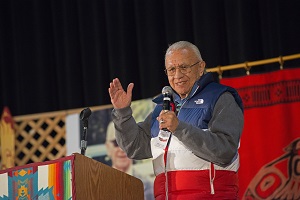 It is with great sadness that we must inform you of the passing of Billy Frank Jr. this morning. No other information is available at this time. The NWIFC offices will be closed for the remainder of the day.
Edit 5/5/14 1:02 p.m.
"We are deeply saddened by the passing of our great leader and good friend, Billy Frank Jr. "He was a champion for treaty rights, the salmon and a better quality of life for all of us who live here," said Lorraine Loomis, Swinomish tribal fisheries manager, and NWIFC vice chair. "Our thoughts are with his family."
"Billy was a spokesman for all Indian people and he charted a course for all of us to follow," said Michael Grayum, NWIFC executive director. "We will miss him greatly."
Services are pending.