Indian Creek, the Elwha River's biggest salmon-producing tributary, has become even more of a juggernaut since the Lower Elwha Klallam Tribe used a new stream restoration technique.
A quarter-mile section of the creek, deep in a valley below Highway 101 and west of the Elwha River, had always been a migratory channel for salmon.
But during 10 years of spawning ground surveys of the creek, the tribe's habitat manager Mike McHenry realized he hadn't seen signs of salmon spawning in this section.
Pulling back farther, he noticed a 700-foot-long dike next to the channel—about 10 feet tall and 20 feet wide—likely constructed decades ago to protect Highway 101 from erosion.
"Part of the reason I didn't see this initially is because there were 40- to-50-year-old trees on this dike," he said. "It wasn't real obvious until I got out of the channel and started poking around and even getting on the other side of the dike, where there was an isolated wetland."
The dike was pushing water into the creek, creating a firehose effect and resulting in a scoured creek bed with degraded salmon habitat.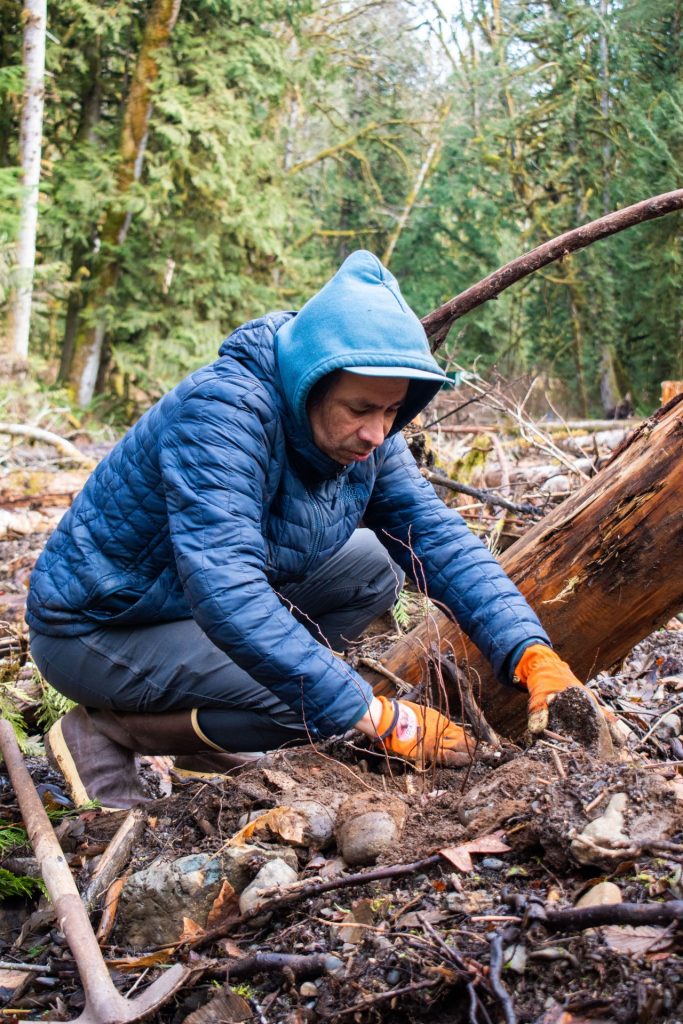 "All the energy from the water is exerted on the bed, then the bed degrades and the sediment gets coarser, which is why there wasn't any spawning in here," he said.
To address this, the tribe implemented a new technique called stage zero restoration. The idea is to reset the environment to how it was before it was altered by human development.
The tribe removed the dike, then rebuilt the creek bed layer by layer, alternating between wood pieces such as logs and soil. They also added structure to the floodplain, with logs, rootwads and native trees, adding to the salmon habitat.
The tribe worked until they saw the chinook arrive in September to spawn on the site, then pulled out to let nature do its thing. Save for restoring an additional small section downstream, the rest of Indian Creek is in good shape for salmon, McHenry said.
This winter, armed with bags of native plants, the tribe and local volunteers planted native vegetation throughout the restored floodplain to further enhance the salmon habitat.
Top: Lower Elwha Klallam Tribe revegetation manager Allyce Miller and habitat program manager Mike McHenry discuss planting native vegetation in the newly restored section of Indian Creek. Left: Volunteer Scoli Acosta installs a native plant in the Indian Creek floodplain. Story and photo: Tiffany Royal