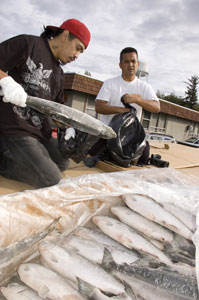 The Lummi Nation distributed sockeye salmon to tribal members last month for families to can and store for the winter.
"The tribe puts fish away as much as possible when we have an abundance, for ceremonies and all the functions that the tribe sponsors," said Randy Kinley Sr., policy representative for the tribe. "It's very important to take care of your people's needs culturally."
The fish was caught during the record 2010 Fraser River sockeye salmon fishery and has been in cold storage.
"The sockeye season was short this year and we wanted to make sure people have the opportunity to put salmon away for the winter," Kinley said.
Watch the video below: