Being surrounded by peers can make a positive difference in a learning environment.
That was the goal of a two-week coldwater fish culture class in July for western Washington tribal hatchery managers and technicians.
The class, taught by the U.S. Fish and Wildlife Service (USFWS), enabled hatchery staff to learn alongside colleagues with similar work experience.
Normally the class is taught in various states and includes a mix of hatchery staff from different agencies around the country, said Marcia House, the tribal fish health program manager at the Northwest Indian Fisheries Commission (NWIFC), who organized the class. She wanted to see one offered primarily for western Washington tribal members and staff.
"Tribal hatchery staff do a lot of on-the-job learning and many have not yet had the chance to attend classes on fish culture," she said. "This class thoroughly covers fundamentals for good fish culture practices, which advances the skill level of the staff at our facilities."
The focus on tribal staff from the western Washington region gave students the opportunity to share their knowledge and experience with peers.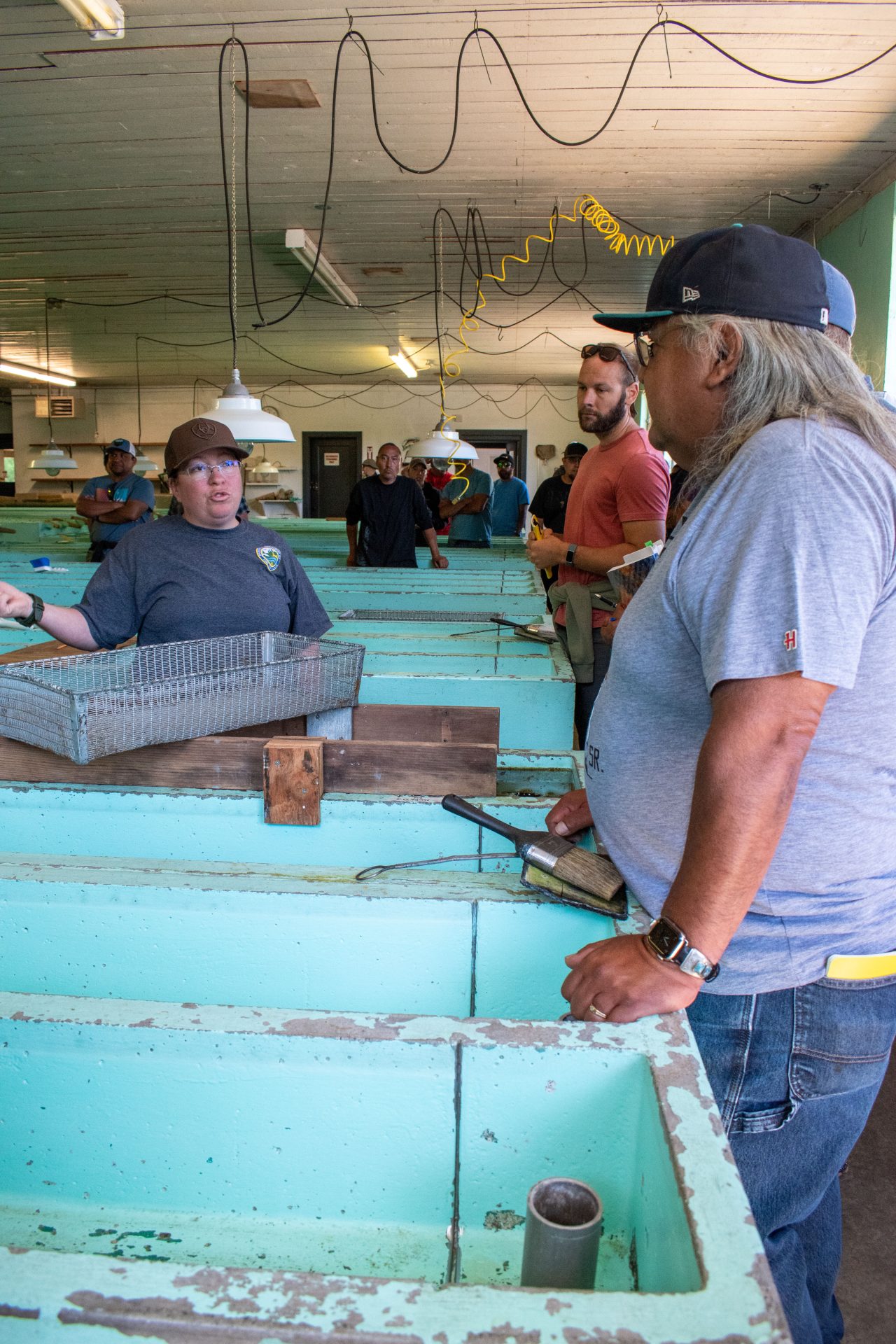 "Since most hatcheries are in remote locations, staff from different tribes do not often get to gather, and time spent together learning, both from the instructors and each other, builds a stronger community," House said. "Now that they have been through two intensive weeks together, the class members know who to reach out to when they want to talk through questions."
With classroom work, hands-on training and field trips, 37 students from 14 tribal hatcheries and NWIFC, plus a Washington Department of Fish and Wildlife employee, dug into the art and science of taking care of fish while making connections with fellow hatchery colleagues.
"It's always good to get more education," said Mike Jones Jr., who has been managing the Port Gamble S'Klallam Tribe's hatchery for five years. He noted that a lot of his conversations with peers were about how others operate their hatcheries. "Hearing how other people run their hatchery or what they do in this situation or that situation has been educational."
After taking this class in New Mexico a few years ago, Skokomish Tribe hatchery manager Jenna Adams decided to take it again when it was offered in the region. This time, she brought her daughter Elena Prest, who is a fish and aquatic field science intern in the Bureau of Indian Affairs-sponsored Tribal WaterCorps Intern Program through USFWS.
"It was great when I took it but it was focused on steelhead and trout, which is more common down there," Adams said. "When it was being offered up here, I wanted to take it again because I knew it'd focus on the fish that we handle on a regular basis."
Above: Staff from NWIFC and tribal hatcheries around Western Washington work on an egg counting exercise during the intensive two-week coldwater fish culture class in July. Story and photos: Tiffany Royal