In the ongoing battle to curb the spread of invasive European green crab in the marine waters of Washington state, Lummi Nation is keeping up the fight year-round—and seeing signs that the effort is beginning to pay off.
While others helping to manage the green crab invasion—including the Washington Department of Fish and Wildlife (WDFW), Washington Sea Grant Crab Team and other tribes—concentrate trapping during spring and summer and retreat during the cold season when the crabs are typically less active, Lummi aquatic invasive species staff say they won't risk breaking from their defenses in Lummi Sea Pond and neighboring shorelines along the tribe's reservation land.
"We're still catching them," said tribal member and fisheries biologist Nick Jefferson. "We're really in brushfire mode."
Lummi Sea Pond is one of the hotspots in the state where, once European green crab were detected, the number captured in traps grew exponentially. The 750-acre pond, encircled by dikes with tide gates to control the flow of water, was built to support the tribe's aquaculture of salmon and clams. That sheltered habitat has proven ideal for the rapid growth of green crab.
"It's a unique habitat and for whatever reason it's a paradise for green crab, so we have to maintain pressure," said Shawn Evenson, the tribe's aquatic invasive species coordinator. "Most places stop trapping in winter but we have to keep going."
While green crab activity does slow down during the cold season, it remains rare at Lummi Sea Pond that a trap emerges from the water without one of the invaders inside. When seasonal field technicians Tatiana Elizondo and Johanna Michelin pulled traps from the frigid waters near the tribe's fish hatchery in early December, they gathered several of the menacing species, including a female with a gooey yellow mass of eggs clinging to her underside.
"That was a pregnant female that would have spread her young if we weren't out there," Evenson said. "One female can crank out 100,000 to 200,000 offspring, so if you have a few females undetected, they can undo everything that you've done."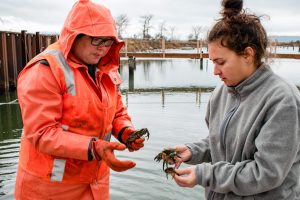 That's why the tribe's aquatic invasive species team has ramped up trapping efforts since the first evidence of green crab was discovered in the sea pond in 2019. The tribe partnered with WDFW, volunteers and tribal members to conduct trapping; built a boat launch to support trapping in deep areas of the pond; and established trapping sites called prospecting areas outside the pond to ensure no spread of the species goes undetected. At times, up to 900 traps are being deployed in the area at a time, baited with sardines or herring.
"Right now we're in an all-out trapping effort. We're trying to get them to where they are barely detectable," Evenson said. "We will never eliminate them; what we will do is beat them down to a number where we limit the harm that they can cause."
That trapping effort seems to be making a difference, with the population explosion appearing to taper off. After exponential growth from about 60 green crab caught in late 2019 to about 2,600 caught during 2020, to about 86,000 caught in 2021, about 78,000 were caught during 2022. That signifies a break in the growth of the Lummi Sea Pond population.
The age range of green crab caught this year also indicates the population is no longer on the upswing. While in 2021 the majority of the 86,000 green crab pulled from the pond were "young of the year"—a sign the population was reproducing—no new generation was detected in 2022.
"We took so many gravid females out of the water, we took so many mating pairs out of the water, we took so many crabs that they weren't able to reproduce," Jefferson said. "It's really, really promising that we did not see this huge increase in young of the year like you usually would."
The team will continue trapping year-round indefinitely in order to keep the species in check and in hopes that this year's apparent plateau may begin to curve downward next year.
"We're going to maintain pressure," Evenson said. "Their population can grow exponentially when unchecked, so if we let off the pressure that's what will happen."
[box] During 2022, nearly 98% of green crab captured in the Salish Sea and nearly 30% captured statewide came from Lummi Sea Pond, according to WDFW. Despite its name, the crab is not always green, but can be identified by its long legs and five points, or "teeth," along the front sides of its shell.
Learn more or report a sighting here
.[/box]
At top: Lummi Nation seasonal field technician Johanna Michelin shows the underside and the shell of two European green crab caught in December 2022. Above, left to right: Lummi staff show the underside of a female green crab with eggs, a male green crab underside and a male green crab shell, after finding the invaders in Lummi Sea Pond. Photos and story: Kimberly Cauvel