Several months into the coronavirus shutdown, the owner of the Lummi Seafood Market was unsure he could sustain the business.
When the Lummi Reservation first locked down, Terry Phair used curbside service to sell fresh, frozen, smoked and canned fish and shellfish at the store off Interstate 5 in Ferndale.
But when Lummi Hereditary Chief Tsi'li'xw, Bill James, became sick from a non-COVID illness, he asked Phair, his wife, Laura Williams, and son, Jaden, to care for him in his final months. Keeping the tribal elder safe from the virus became their priority over keeping the market open.
In the meantime, Jaden, a Northwest Indian College student who speaks the tribal language, began fishing off his kayak in front of the family's home.
"We didn't know where the pandemic was headed," Terry Phair said. It seemed like a good idea to ensure they could continue harvesting if gas became unavailable for outboard motors.
In addition to owning the Lummi Seafood Market since 2017, Phair is a fisherman and a wholesale buyer. Even before the pandemic, the seafood industry was suffering because of Chinese retaliatory tariffs.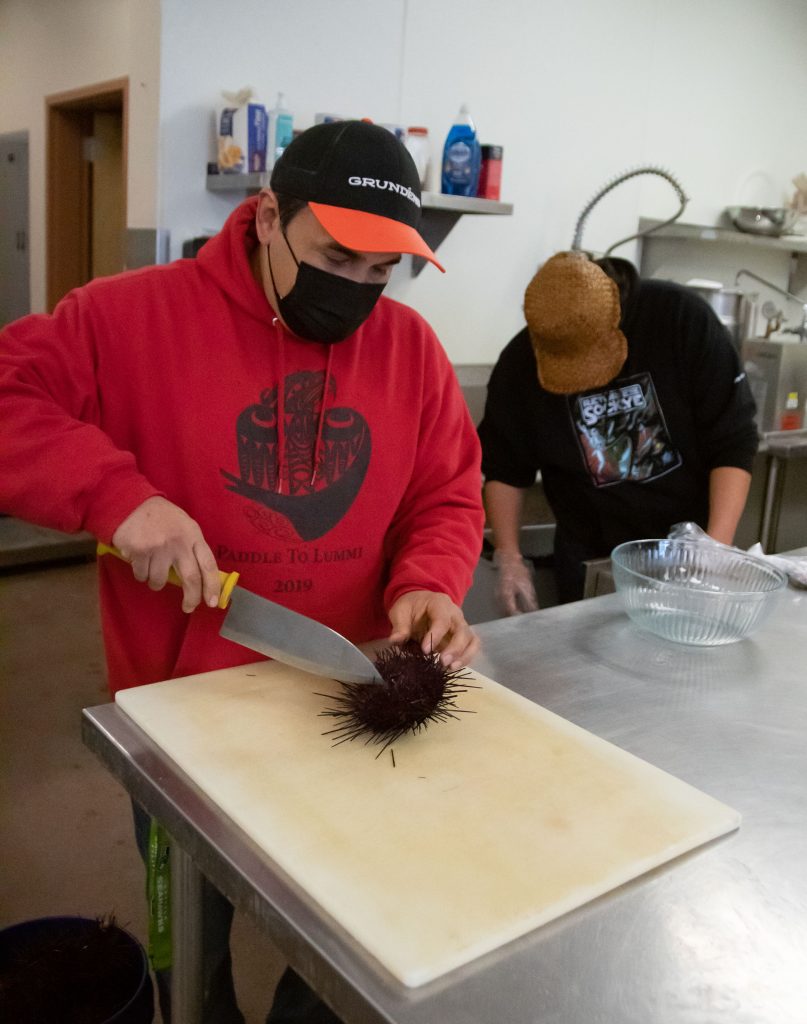 Midway through 2020, Terry and Jaden wanted to reopen the Lummi Seafood Market doors, but were unsure how they could afford to restock their entire inventory. They received help from both the federal Coronavirus Aid, Relief, and Economic Security (CARES) Act, as well as the Lummi Nation Community Development Financial Institution (CDFI).
"Without this help, our doors would have been permanently closed," Phair said. "I worked with our new Lummi Nation economic director, Celina Phair, and was able to renew my lease here at Lummi Te'Ti'Sen Center, which is a tribal small business incubator."
The Lummi Seafood Market was the vision of the ancestors, he said, part of a larger plan to give tribal fishermen more opportunities to sell their harvest. Phair credits Jaden with having the drive to keep the business going.
"Some of our ancestors have passed on," Phair said. "It's all on Jaden's shoulders while I'm fishing."
The market officially reopened its doors in November, but challenges remained. Seafood sales were down because fancier restaurants weren't buying, and retail consumers were being asked to stay home. In addition, fishermen had fewer opportunities to harvest because of the need to maintain physical distance from each other.
"We still have live crab, halibut, smoked salmon and razor clams from the Quinault Indian Nation," Jaden said. "But our customers missed out on summer coho and king salmon."
Prior to the pandemic, there had been an increased market for delicacies like sea urchins. Terry Phair started diving for them about five years ago. Typically, urchins would be sold internationally, but the Phairs are working hard to build local interest in them.
Part of that is teaching people what to do with them via the market's social media accounts. Most people eat urchin raw, but it can also be grilled or mixed into sauces.
"Our elders ate them when they were kids. They were a staple for a long time," Phair said. "Instead of shipping them overseas, we should be feeding our people."
Jaden Phair of the Lummi Seafood Market offers up fresh Dungeness crab caught in Lummi Bay. Photos: K. Neumeyer