For nearly 15 years, the sunken 65-foot sailboat called Windjammer sat derelict near the shore of Kiket Island, where the Swinomish Indian Tribal Community co-manages the Kukutali Preserve with Washington State Parks.
The algae- and barnacle-crusted boat was abandoned in 2009, imposing on the fragile intertidal ecology surrounding the island. That came to an end when Swinomish, the Washington Department of Natural Resources and the Northwest Straits Commission partnered to remove the boat in July.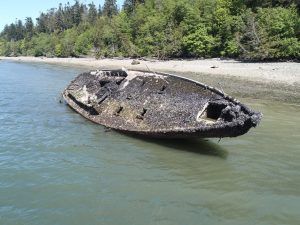 "Ensuring a clean, healthy marine environment is critical to preserving traditional practices and protecting the treaty-reserved rights of the Swinomish people," said Steve Edwards, chairman of the Swinomish Indian Tribal Community.
The waters around Kiket Island include Similk Bay, an area supporting eelgrass meadows and beaches where forage fish spawn.
"The intertidal area in this region is very rich in species diversity. Swinomish Fisheries has long known that this stretch of beach could serve as an important area for future biocultural restoration projects, but our ability to move forward on those ideas has been thwarted by the presence of the derelict sailboat," said Julie Barber, senior shellfish biologist with the tribe. "The removal of the sailboat opens up opportunities for future work toward improving fisheries resources for the tribe."
Over the years, the Windjammer impacted access to Swinomish tidelands, in part because it was presumed to contain asbestos, lead paint and PCBs that pose a risk to marine life and public safety.
As derelict vessels like the Windjammer deteriorate over time, they can leak those pollutants into the water, endangering marine life and diminishing the recreational value of coastlines. The Windjammer was one of more than 300 such vessels of concern identified for removal in Washington's waterways.
Above: The Windjammer was lifted from Similk Bay on July 20 using a floating crane. A boom was placed around the derelict sailboat to capture any pollutants loosened during extraction. Photos: Jason Thompson, Swinomish Indian Tribal Community shoreline specialist. Story: Kimberly Cauvel