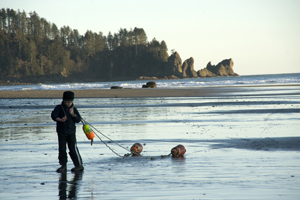 An empty plastic kerosene can with Japanese writing on it washed onto Point Grenville in March, possibly some of the first debris to reach the Olympic Coast following Japan's catastrophic tsunami in 2011.
Tribal, local, state and federal agencies are preparing for the possibility that tons more debris may wash ashore. However, little wreckage has reached Hawaii, so tribal scientists are hopeful that not much will arrive here either.
"The original mats of debris aren't visible by satellite anymore and the at-sea debris that was found north of Midway Island pretty much confirmed it has spread out and much of the debris is now missing and most likely sunk," said Joe Schumacker, marine scientist for the Quinault Indian Nation.
Schumacker thinks it unlikely that debris will have a great impact on Quinault's fisheries or the beaches. Most of it likely will be items that are designed to be used at sea anyway, such as buoys and plastic ropes.
"It's unknown if barrels of chemicals might survive all that time at sea – we'll just have to wait and see," Schumacker said."It is kind of interesting that the first thing we have confirmed on our beach is a can that could have been full of kerosene. "Kerosene containers like these are used to fuel heaters in Japanese homes. Larger plastic items are expected to travel faster than other types of wood debris since wind will push the items that sit higher in the water.
The tsunami that struck Japan March 11, 2011 inundated 217 square miles of land, said Nir Barnea, West Coast Regional Coordinator for the National Oceanic and Atmospheric Administration Marine Debris Program.
While early pictures showed entire homes floating in the ocean off Japan, within a month the debris had dispersed and could not be detected by satellites. The Japanese government estimates that roughly 25 million tons of debris were created by the tsunami, but there isn't a good estimate of how much of that debris washed out to sea.
The bulk of tsunami debris could wash ashore on the Washington coast next winter. If a huge amount arrives, coastal tribes are concerned about the expense.
"We could possibly use Environmental Protection Agency grants to assist with the cost of cleanup," said Dana Sarff, Sustainable Resources Coordinator for the Makah Tribe.
"But there isn't a lot of money available for a substantial debris removal."
For more information about the tsunami debris, see NOAA's Marine Debris Program website at www.marinedebris.noaa.gov/info/japanfaqs.html.
For more information, contact: Joe Schumacker, marine scientist, Quinault Indian Nation, (360) 276-8211 ext. 327, Dana Sarff, sustainable resources coordinator, Makah Tribe, (360) 645-3160; Debbie Preston, coastal information officer, Northwest Indian Fisheries Commission, (360) 374-5501