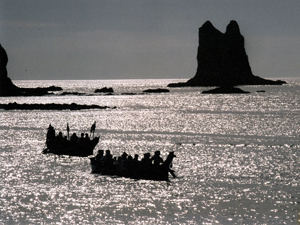 The inaugural First Stewards symposium, to be held July 17-20 in Washington, D.C. is a national event that examines the impact of climate change on indigenous coastal cultures and explores solutions based on millennia of traditional ecological knowledge.
Hundreds of native leaders, witnesses and climate scientists will join policy-makers and non-government organizations for groundbreaking dialogue in what is planned to be an annual meeting at the Smithsonian's National Museum of the American Indian.
The Hoh, Makah and Quileute tribes and the Quinault Indian Nation created the symposium because indigenous coastal people are among the most affected by climate change.
"We need everyone engaged in working on adaptations, mitigation and strategies and solutions to climate change," said Micah McCarty, chairman of the Makah and of the First Stewards steering committee. "Even the polar bears and people of the Arctic Circle cannot escape the second-hand smoke of the vehicle tailpipe and the smokestack that leave such a large carbon footprint. Arctic Circle villages must adapt and change now while still trying to preserve their culture and way of life. The rest of us have a little time if we act now," McCarty said. Traditional knowledge is needed to make climate science and subsequent models meaningful on a human and local scale.
"Coastal Indian people are already dealing with the effects of climate change," said Billy Frank Jr., chairman of the Northwest Indian Fisheries Commission (NWIFC). The NWIFC is an inter-tribal support services organization that assists 19 member tribes in western Washington with natural resources management. "The glaciers that feed our life-giving rivers are melting. Reservations are flooding more often, forcing some tribes to have to move their homes to higher ground. Tribes are the natural choice to lead the nation in the response to climate change, beginning with this symposium in July."
Regional panels will share climate adaptation strategies from coastal and island ecosystems nationwide where Indian Country, Alaskan Natives and indigenous U.S. Pacific Islanders are at the forefront, creating an incubator for climate change solutions. Tribal regulatory environments allow for demonstrations of solutions to pressing needs, such as renewable energy and adaptation strategies for villages.
"We want to see meaningful collaboration borne out of this first symposium that over the coming years yields effective work to make changes in the way we live on earth to sustain all of us for centuries to come," McCarty said.
The symposium is in partnership with scientific, tribal and governmental and non-governmental organizations including the Smithsonian National Museum of the American Indian, National Oceanic and Atmospheric Administration's Office of National Marine Sanctuaries and National Marine Fisheries Service, The Nature Conservancy, National Congress of American Indians and Western Pacific Regional Fishery Management Council. Other partners include Salmon Defense, United South and Eastern Tribes, Uncas Consulting Services, American Native Renewables, and EA Engineering, Science, and Technology.
For more information or to become a sponsor, visit www.firststewards.org.
-End-
Contacts:
Leonda Levchuk, National Museum of the American Indian, Public Affairs Specialist,(202) 633-6613; Vernon Smith, National Marine Sanctuary Program, Media Director, (301)713-7248 ext. 248; Debbie Preston, Northwest Indian Fisheries Commission, [email protected], (360) 780-1295; Robin Stanton, The Nature Conservancy, [email protected], (360)425-478-5641