Twenty-five years ago, Willie Frank III never heard a word about his legendary father Billy Frank Jr., or the Fish Wars during his early school years
This week, Frank reviewed projects about his father, the Nisqually Tribe and the Fish Wars created by children in every grade, K-12, in the North Thurston School District. It was part of the Billy Frank Jr. Community Celebration held at Nisqually Middle School this week. The district, tribe and a number of nonprofits sponsored the celebration.
"Seeing our youth here tonight, speaking our language, that's what it's about – the future," Frank said. "When I asked my dad why he didn't speak our language, he said his dad, my grandfather, wouldn't let him learn it. It got my grandpa beaten in boarding school. He didn't want that to happen to his son."
To kick off the second annual Billy Frank Jr. Community Celebration, the Nisqually Canoe Family drummed, danced and sang with many young children in their midst for the assembled community of about 100.
Nisqually Children See Themselves as Leaders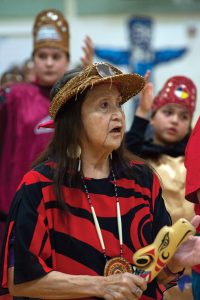 "Our kids here – they know they are young leaders," Frank said. "People ask me if I will fill my father's shoes. I can't do that by myself, but together, we can all do that," Frank said. "We can all continue his work to protect our environment, our culture and our salmon."
Following a short video interview of Billy Frank Jr., attendees dispersed to look at the many displays both from students and participating agencies such as the Secretary of State's Office, League of Women Voters, Timberland Regional Library and Billy Frank Jr. Nisqually National Wildlife Refuge.
Poems, essays, suggested books and research projects filled the halls and auxiliary gymnasium. The themes included treaty rights, advocacy, civil disobedience and environmental stewardship.
"Having this curriculum developed about my dad and the Fish Wars means this story will always be told, as it should," Frank said.